Dynamo: a Century of Light and Motion in Art, 1913-2013
Location: the Grand Palais, Paris
Time: 10 April – 22 July 2013
Curated by Serge Lemoine

This exhibition is the definitely most memorable exhibition in my life and I actually got many inspirations from Dynamo exhibition.
I had an exhibition in CHI conference in Paris in 2013, I made a media art installation that combined analog optical illusions and digital webcam images. One of the visitors highly recommended me to go 'Dynamo' exhibition to see the similar concept of Op Art works. It was totally huge, overwhelming and enough enjoyable. I took a time to look at them for over 4 hours.

This exhibition on "Perceptual art" took place at the Grand Palais in Paris in 2013, called "Dynamo: A Century of Light and Motion in Art, 1913-2013".
There must be around 200 individual works here including many installations, interventions, walk-in environments and films, as well as sculptures, paintings and participated over 150 artists including Marchel Duchamp, Anish Kapoor, Carsten Höller, François Morellet, Julio Leparc and many more. This exhibition, Dynamo showed the birth to developments of abstract art and focused on optical and kinetic art. 
Carlos Cruz-Diez, 'Transchrome', from the exhibition "Dynamo", at Grand Palais, 2013.
Carlos Cruz-Diez, Chromosaturation, 1965 Section: Vision; salle: Immersion.
< Space & Section > 
The two main parts – "Vision" and "Space" – are divided into sixteen subsections dealing with various aspects of phenomenal experience.The show was presented in a series of small rooms and large spaces using generic themes such as Contemporary, Openwork, Vision, Immersion, Distortion, Flicker, The Grid, Concentric/Eccentric, Halo, Tactile, Space, Abyss, Cloud, Force Fields, Maelstrom and many more, ending with a polarising section.
The show was well organized with the specific themes and colors. So the viewers can watch individual works but also compare similar works that used the similar techniques. As the result, the different works interacted each other and made the atmosphere more harmonious and dynamic. 
Dynamo installation image. Section: Espace; Salle: Champ de force. © Didier Plowy pour la Réunion des musées nationaux-Grand Palais, Paris 2013
Francisco Sobrino, Transformation Instable Juxtaposition Superposition, 1963-2011 | Section: Vision
Ann Veronica Janssens, Bluette, 2006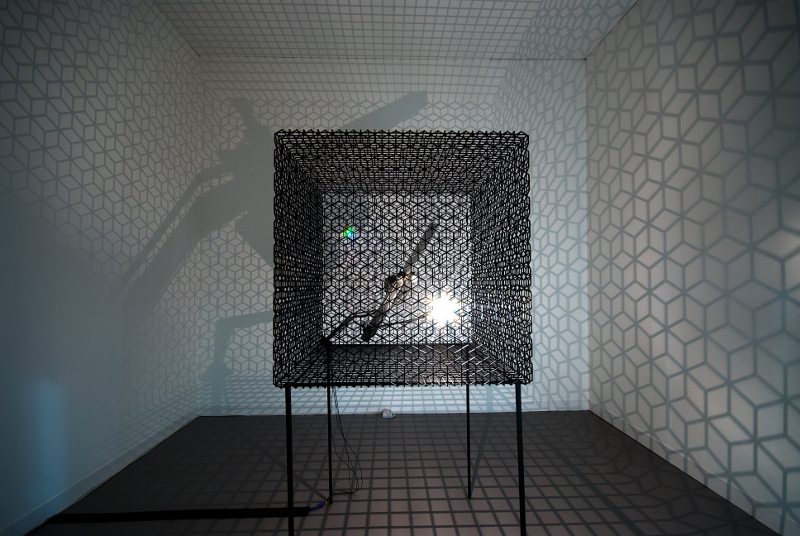 Conrad Shawcross, Slow arc Inside a Cube IV, 2009
Jeppe Hein Rotating Labyrinth, 2007
Jesùs Rafael Soto, "Pénétrable BBL Bleu", 1999

When the exhibition was finished and came out the building, the visitors met the optical illusion painting on the Grand Palais's columns and ceiling. It gave a final and effective impression in their heads.
< The origin of Dynamo >
By putting vibration along with the spectator's perception in the centre of their works, they set up multiple resonances with optical and kinetic art, which first emerged at the Movement exhibition in Denise René's Paris gallery in 1955, but also, more broadly, with what was later called "perceptual art" at the exhibition The Responsive Eye at the Museum of Modern Art in New York in 1965. – Dynamo website 
https://abstractcritical.com/article/dynamo-a-century-of-light-and-movement-in-art-1913-2013/index.html
DYNAMO: Flashing Lights & Optical Illusions